This year, with COVID 19 protocols and more people spending additional time at home, many of us are breaking out the Holiday decorations already. From Christmas trees to festive lights, here are  some DO's and DON'TS of Holiday decorating
Don't keep your holiday décor in a single room
In order to reach maximum Holiday Cheer in your home aim to spread your decorations throughout the house. Try putting lights or greenery on your stairway banister or picking up a cute themed soap dispenser for your bathroom.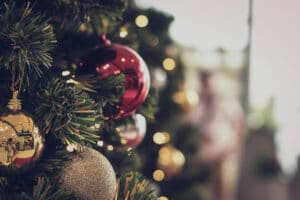 Do- try other shapes of lights- such as icicles
Most often we see the same type of lights, simple strands with bulbs wrapped around trees and beautifully lined along houses. However, this Christmas to shake things up try alternative light shapes, such as icicles or stars.
Don't use staples to hang your lights
Using staples to hang your lights can cause long term damage to your house. In order to take care of your Westbow home, pick up some light clips that simply snap on and off- making set up and take down easy.
Do- Use an Advent calendar
Advent calendars aren't just for kids anymore! With so many different types, advent calendars are easy and fun ways to add a little Christmas Magic to every day in December. From the classic chocolate calendar to reusable fabric calendar, don't forget to get your calendar set up.
Don't overcrowd your front door
Putting out tons of décor on your front door may seem like a great idea, but can come across as cluttered. Invest in a great wreath or make your own!  Top it off with some lights around the door and a cute holiday sign, and your front door is classy and Christmas ready!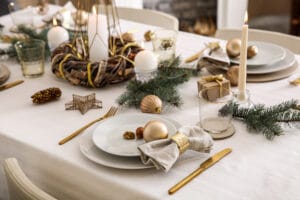 Do keep a consistent colour scheme in each room
Keeping a consistent colour scheme per room will really elevate your holiday décor and stop it from looking cluttered.
Do use a variety of colours
While red and green may be classic Christmas colours, don't be afraid to branch out. Other great colours to include can be white, silver, gold, and different tones of blues!
Do add greenery
Living in the beautiful province of British Columbia, we are lucky to be surrounded by tons of greenery. Bringing this isn't your home can not only add beauty, but also add a fresh Christmas scent.
Do DIY Christmas decorations
Being isolated at home means we have tons of time this year to DIY some Christmas Decorations. From popcorn garlands to hand painted Christmas signs- now is a great time to get your family working together to create new decorations you'll have for years to come.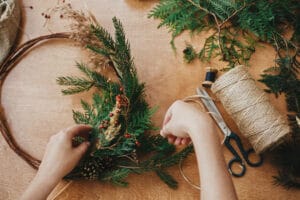 Do stock your bar
With COVID-19 this year, we can't be sure what the holiday season will bring in terms of having friends or family over. What we can be sure of is that there is something about a Rum and Eggnog sitting in front of a fireplace that really brings in the Christmas Spirit. Check out Cocktail Emporium for more yummy holiday sets!