If you are looking to live on a quiet street, surrounded by trees and next to a mountain stream, the last of our Elk Creek homes are available for you to buy now. Designed and built by Westbow Construction, these homes are set right off the freeway in the beautiful Eastern Hillsides of Chilliwack, perfect for families and retired couples. Elk Creek Estates has: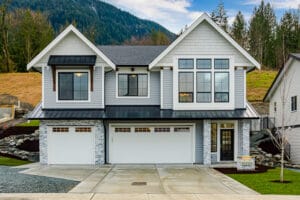 A remarkable neighborhood
Scenic Views: Set in the Eastern Hillsides, it is a scenic drive to and from Chilliwack. The mountain views out your window are just stunning. These Fraser Valley homes are in the perfect location.
Amazing Trail System: Kensington Trail is a forested 1km trail that is a 2-minute walk away and it is beautiful to walk through. With the rushing creek, rolling path, and evening alpenglow, you might even see the odd deer…
Spacious Park: You and your kids (or grandkids) will love the park. It has a pickle-ball/hockey court, fun structures, swings, and benches for you to sit and take in the amazing landscape view of the mountains while you watch your kids. Oh! And the best part? It is also a closed neighborhood. This means it is safe for your kids to play on the street.
Unique features
Large floor plan: Each home has a finished area between 2,200 and 2,500 square feet, with an extra thousand square feet when you include a spacious, unfinished basement.
Multiple rooms: Each home has four bedrooms, three bathrooms, an open-concept main floor living area and bedrooms upstairs.
Appliance Options: Each home comes with all the appliances you need to live comfortably. There are also various appliance upgrades to choose from plus an optional suited basement, perfect for visiting family or friends.
Quality you can trust
Since 2014, the first phase of Elk Creek Estates began selling. Now the last homes of phase six are ready for you to buy. Developed by Westbow Construction, these fraser valley homes have been built with quality that will last for generations.
"Elk Creek is a great place to live with room to grow your family. As a homeowner at Elk Creek Estates myself, I know first-hand how close the neighbourhood is. Neighbourhoods like this don't come around often. It's really remarkable." – Alex Sipocz, Project Manager for Elk Creek Estates.
Book a tour today!
Elk Creek really is the place to live. It is so close to Chilliwack for your basic needs, yet it is tucked away enough to feel like Whistler.
From a family living in the neighborhood, "You feel like you're outside town but it doesn't feel like too long of a drive to go get stuff. It feels like we are in a Whistler area because you look out your window and we have beautiful mountains. It's the best of both worlds!"
If you interested in buying a home at Elk Creek Estates, contact Greg Nord Leth from Royal Lepage today to book a tour at greg@wheelercheam.com or call 604-792-0077.
Let's add something here about the fact it's a closed neighbourhood- aka no one will be driving through so it's safe for kids to play on the street